About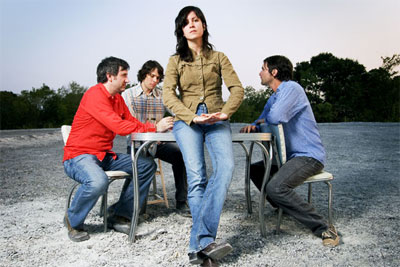 Luigi is:
Brian Fletcher - Drums
Scott Rowe - Bass, Vocals
Michelle DuBois - Guitar, Vocals
Jeff Holt - Guitar, Vocals
Update: In January of 2008, Johnny McConnell stepped down as guitarist and was replaced by Jeff Holt (Silent Kids, Georgia Fireflies).
Bio
If a band plugs in in the forest, will anyone hear them play? If the act in question is Luigi, folks will organize a camping trip around it. In 2003, in-the-know Atlantans found a new power source spreading joy throughout the land (or at least all the way down Flat Shoals Avenue). Luigi are guaranteed to put a crooked smile on your face, but theirs is not the kind of happiness that comes from puppies or flowers. It's more like the tart explosion of a jawbreaker against your tongue, or the excitement of a rollercoaster ride on a crisp autumn day. This is a quartet (Michelle DuBois, Brian Fletcher, Johnny McConnell and Scott Rowe) on a mission, and they won't be satisfied until you're fully entangled in their crippling hooks, helplessly chanting one of their big-hearted choruses.
Luigi was born when Michelle DuBois sought collaborators to bring some of her new material to life. DuBois has been a fixture on the Atlanta scene for over a decade. Her creative path was first forged in Nashville, Tennessee, where both her father and younger brother enjoy successful careers as country songwriters, and nurtured during a six-year period spent in the Knoxville neighborhood of Fort Sanders. During that period (1986-1992), DuBois formed her first band, The Flying Polecats, and enjoyed the camaraderie of a supportive community of musicians. Eventually she relocated to Atlanta, and, along with childhood friend Shonali Bhowmik, co-founded Babyfat in 1993. Ultrababyfat, as they came to be known, gained critical respect and a substantial local following in the many years of their existence. They also enjoyed national exposure as perhaps the most feminine, pop-smart performers on the (2001) Warped Tour and as a supporting act for comedian David Cross (you can glimpse them on his 2003 DVD, Let America Laugh).
Luigi carries the ragged spirit and pop sensibility of Ultrababyfat forward with a winning eccentricity and a lineup that matches DuBois' vision with individual flourish and passion. This is a band that makes it look easy, but their approach is rooted in respect for songcraft and years of collective experience. Guitarist Johnny McConnell and drummer Brian Fletcher (ex-Marcy) have shared the stage previously in The Titanics, while bassist Scott Rowe, who also contributes his vocal and songwriting talents to Forest Floor, is a former Silent Kid and current member of Atlanta veterans Magnapop.
While their first release, Vamonos, was a bottle rocket of exuberant punk-pop, Found on the Forest Floor continues the band's journey with a richer palette of sounds and emotions. It's a more muscular record than before, as well as a more vulnerable one. Both brash and wistful, its 14 tracks balance celebratory rockers against introspective musings. Tying it all together is the band's unique perspective. Luigi's world is equally fueled by sugar-shocked riffs and a romance with Romance languages, where you may learn something about your own mortality, famous Oklahomans or the perils of a dwindling bank account. Like the mysterious foreign paramour their name suggests, they're sweet, a little rough around the edges, and impossible to forget.
-Amanda Langston
Press